Eddy Current Probes
Eddy current sensors belong to the category of non-contact displacement sensors. The name-giving principle admits the distance measurement towards conductive objects. As a speciality of this technology - the presence of non-conductive mediums like oil, water or coolant does not affect the measurement. This circumstance predestines the eddy current sensor for applications in the rough industrial environment.

Furthermore eddy current sensors are perfectly suited for the observation of dynamic events. Eddy current sensors of the TX-Series stand out with an excellent dynamic range >100 kSa/s and resolutions in the sub-micron range. With this premise the eddy current sensor is suitable for general motion analysis and in automotive applications.

Besides robustness, high dynamics and high resolution the TX-Series also stands out with a wide temperature range. With a temperature range from -60°C up to 180°C eddy current sensors are the ideal choice for applications in combustion engines.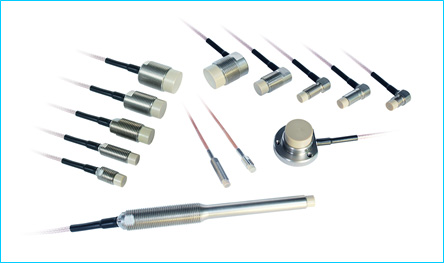 Eddy-current sensor for measuring ranges up to 10 mm, T-series

Waterproof and pressure-tight analog electronics, AX-series